Emerald: (Very Large, Mildly Sweet, Harvest Length 4-6 weeks)
Emerald yields are setting production records in Florida. Emerald is one of the more widely planted varieties in north-central Florida. Emerald combines a vigorous, upright, bush with high yield potential, early ripening, and large, high-quality berries. Emerald flowers open uniformly, and it produces abundant leaves even after mild winters in Gainesville. Because the plant is highly vigorous when planted on suitable soils, Emerald is capable of carrying heavy crops. The long harvest periods require multiple picking but the mild flavored fruit keeps its size well throughout harvest.
Jewel: (Very Large, Tangy 1st ripe, Harvest Length 4-6weeks)
Jewel has become one of the leading varieties in Florida due to its site adaptability, exceptional growth, record yields and large quality fruits. It should be planted with other mid-season varieties like Emerald for best pollination. Jewel is recommended for commercial production in areas of low to medium chill where early, high quality fruit is desired. Jewel produces a large number of flower buds but leafs well in the spring.
Primadonna: (Very Large, Sweet, Harvest Length 4-6 weeks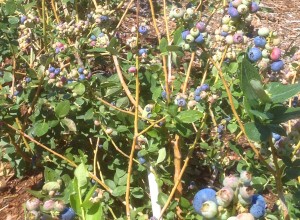 A new distinct southern highbush blueberry plant is characterized by a vigorous,low-chill bush that produces large berries with excellent scar and firmness during April in northern Florida. This berry picks and packs well and the berries ripen during a concentrated harvest period. These characteristics have made Primadonna very attractive to growers.
Springhigh: (Large, Sweet, Harvest Length 3-5 weeks)
Springhigh produces an upright, vigorous, bush that set numerous flower buds in the fall and is capable of heavy flowering and fruit production. It tends to bloom a few days before Emerald, making overhead irrigation important to protect flowers and young fruit from freezes. The berries are as large as or larger than berries of Emerald and Jewel. Springhigh has also consistently ripened fruit before Emerald and Jewel.